An An

Top 30 Men: Why do they even make these lists anymore?
Women's jinterest (that was a typo but i think its sort of apt) magazine
An An
has released its yearly ranking of male ce
lebrities this week, and of course the results are virtually the same as last year! Compiled from reader surveys, the list tracks the hottest and most popular actors, musicians and public figures in Japan.
This year the coveted #1 spot is taken by--wait for it...wait for it-- Kimura Takuya of SMAP, for the 7th year in a row! Since Kimura is only like 32 right now anyhow, we're looking at at least 45 more years of him winning this poll provided something horrible doesn't happen. But it won't, because he's a golden god with perfect hair, sent from heaven to ride motorcycles and surf into the sunset while carrying his baby daughters under each arm. Don't act like you wouldn't marry him if you had a chance in hell.
But i digress! Rounding out the top 5 are:
#2 Fukuyama Masaharu
See, yao! I told you there was something about him! He's sexy in a strange, crooked-teeth way!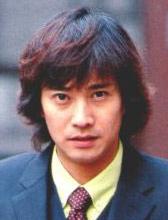 #3 Nakai Masahiro
Listen, I don't know, maybe only old ladies read this magazine. But he has a high profile girlfriend. And also he's the highest paid celebrity in Japan. and also he's hilarious. I change my mind, I would totally hit it.
#4 okada junnichi
Um duh. He's got the ass of a dior model. OM NOM NOM
#5 Matsumoto Jun
Creepy, yet alluring!
The rest of the list is as follows. Personally, Odagiri Joe's slide down the ranking is a tragedy.
6 katori shingo
7 tsumabuki satoshi
8 akanishi jin
9 inagaki goro
10 kamenashi kazuya
11 kusanagi tsuyoshi
12 tackey (dude i totally do not remember tackey's real name anymore. what does that say about tackey's popularity?)
13 odagiri joe
14 yamapi
15 domoto koichi
16 nagase tomoya (jin, kame, and yamapi higher than my husband? fuck japan, i will kill them.)
17 hayami mocomichi
18 ninomiya kazunari (this is unexpected, as he is weird looking.)
19 oguri shun
20 sakaguchi kenji. (yao wanted me to make a joke about how his official website pictures him holding injured black children but...dude, that is the joke. what a prick!)
21 sakurai sho
22 nishikido ryo
23 koike teppei
24 tamaki hiroshi (one time i had a dream i fucked him till he wanted to die. of pleasure.)25 domoto tsuyoshi (i'm surprised he is this high, because people never appreciate true genius!)
26 eita
27 okura tadayoshi(is he really famous? i put this bitch on the map!)
28 narimiya hiroki
29 matsuda shota
30 koide keisuke (this guy must be ugly because i don't know who is he. just saying.)
In other news, the magazine also ranked the top 3 most hated guys in entertainment. #1 this year is some comedian dude named
Egashira 2:50
. Apparently Japan wants him to die in a fire, but after reading his
wikipedia
, he's kind of our hero. Motherfucker showed his penis in public to Muslims. You can never say
we're
too vulgar now!
the other losers:
#2 Yamasato Ryota of Nankai Candies (oh.)
#3 Mino Monta (then why is he EVERYWHERE ALL THE FUCKING TIME?)
editor's note:
this entry was written completely on my sidekick3 as i have no internet right now. this is how devoted i am to you! did you know can
send me emails on it
and i'll reply to them? if you ever need advice on your love life, financial situations, work problems, diet (lol), i'm here to help! i may even post it here in an Ask V-ron column! go for it.
my thumbs hurt. :(
editor's note 2:
entry slightly edited by me (yao) except that I got tired.