JapanZone is reporting that the real reason
Tsuji Nozomi
declined a lucrative spot in a stage musical is because she's two months pregnant! Actor
Sugiura Taiyou
of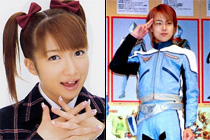 Ultraman fame, who she has been dating for a year now, is rumored/confirmed to be the father. Tsuji was named as the leader of new group Gyaruru recently but dropped out due to an "acute stomach ulcer". An acute stomach ulcer that will take about 9 months to get rid of, I guess! I've got a date, 6/17, for a wedding but that's it. Interestingly enough, more sources indicate that the baby may have some sort of congenital disorder that causes defects, or worse (gasp!) discoloration! I hope it's green! ...I don't know guys. She's 19 now, but I still think of her as a little 12 year old girl. Babies having Babies, it has to stop! Imagine when the baby turns 2 or 3 and they walk down the street together, they'll look exactly the same. They could use the baby as a replacement for
Kago Ai
and bring back
W
! I love that Nozomi is getting away with this crap just because she's graduated but Ai got the book thrown at her not once, but twice! Nozomi was always the funnier one anyhow.
(And if you ask me, Nozomi has always looked EXACTLY like
Ohno
Satoshi
from
Arashi
. Look at their faces side to side!)
Also,
Fujii Takashi
is having a baby with his wife,
Otoha
. No, for real, he's married. No, to a
woman, stop being an asshole. No, that was just a character. God, do you believe everything you read online? Well, clearly he does, because he put up with it long enough to make a kid! Listen, lots of people wear golden sneakers, stop stereotyping, even I do sometimes, and look at me! Listen, you told me you were gonna keep that one night a secret, don't be a douchebag. I was experimenting!
I had more to post but I'm sorta drunk and very tired. Such is life, eh?
source
P.S. Check out the
forums
! We have cool emoticons!