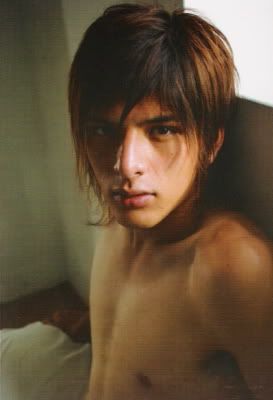 Things I hate:
1. Akanishi Jin
2. KAT-TUN
3.Tenimyu
4. Anime Musicals in general
Somehow though, I've been tapped to write about them. THIS IS NOT HOW I WANTED TO SPEND MY FAKE "SICK DAY".
An email mole tipped us off to this rare interesting post over at
kattunlove
(most things at kattunlove ARE interesting, but in that way where you're at the zoo and you're watching the monkeys throw feces at each other and then eat it. You know.). It would seem that
Shirota Yuu's batshit crazy spanish mother
went off on a tirade about the entertainment business on a radio show and her comments seemed to be supporting Jin in his time of
Deep Educational Turmoil
. (Hands up if you have or know a crazy spanish mother and can totally relate to this. )In true fangirl style however, the commenters spend entirely too much time translating the article and come to the conclusion that she is crazy and could be saying fucking anything. They actually don't even know if she's speaking cryptically about her son, or Jin! They also seem to think that Shirota's mother is either supporting Jin, or slandering JE and trying to get publicity for D-Boys, the second largest boys' talent agency in Japan. NO SHIT, SHIRLOCK. This is such bullshit, why am I even posting this again?
And why should
Shirota Yuu's
mom even give a shit about Akanishi Jin? Jin and Yuu, along with
Yamapi
are part of what i like to call the Idol Cabal, which consists most of the attractive men from HoriKoshi Academy just fucking girls. All the time. I know it happens. Idol Cabal alumni include
Ikuta Toma
,
Hasegawa Jun
,
Koike Teppei
, and
Matsujun
.
Jimmy
Mackey
is a member too, but he went to an International School and no one wants to fuck him except for me. So they're like, brothers in fucking, and Shirota's mom says he's like a son to her, and she's mad about how the entertainment business is treating him.
Or, she's actually talking about Shirota Yuu, and he really IS her son, and she's mad about how the entertainment business is treating him.
I fucking hate kattunlove.
Yao Edit: I did a translation of the not redundant places in the
comments.
This lady is fucking crazy, basically she's like OY CHICOS I'M SPANISH SO I DO WHAT I WANT FUCK YOU JOHNNY'S ENTERTAINMENT! YEAH SEND YR YAKUZA AFTER ME I'LL SLAP THEM all because some chinese fans are claiming on the blogs that Jin is a deserter. The translations at kattun love suck a dick and fail to realize that she's talking about Jin and not her own son (well mostly, i'm sure she's also upset about chinese fans like, e-sucking on her son's dick) She manages to blame assassination threats, sex depravation, youth crime, and basically all that is wrong with the world on the media and JE and compares them to North Korea. She makes herself a martyr of 'speaking out against the man' and she also is a publicity whore in general and basically tells the Japanese people that they're lying pussies.
Goddamn she wins the obnoxious gaijin of the year award. And I thought I won it when I cut in front of a line of like 100 people for free samples in Shibuya.
Also, I also wish we had other news NOT about gay ass Jin but what can I say he's like the Paris Hilton of J-ent.