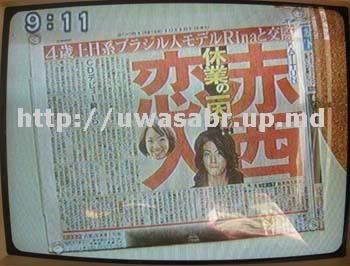 After having many secret night rendezvous with
adult video actresses
and
that girl who did nothing in SPEED
, getting verbally abused by
older and classier members of his talent agency
, and even pissing off
the man who made him
, he's decided to do something more drastic than debuting in a
special side group for a mediocre drama
: He's going on an 'indefinite hiatus.'
Now, I don't know about you but I know a thing or two about Johnny's Entertainment, and that is when someone's on 'indefinite hiatus' that basically means he's peaced out.
Earlier on this week to the
consternation of hormonal teenage girls around the world
Akanishi Jin (22) announced that he was going on hiatus for an indefinite amount of time because he wants to supposedly 'study a foreign language abroad.' Of course what language and where he did not announce for 'safety purposes.'
Fast forward a few days to a little article about how he's supposedly dating a
26 year old Brazilian-Japanese model, Rina.
Apparently, he's been dating her for quite some time and when news reporters asked him about whether his hiatus was due to a women he said, "No." And folks, in the entertainment world no means yes and
Gackt is the mascot for a plastic surgery clinic.
source